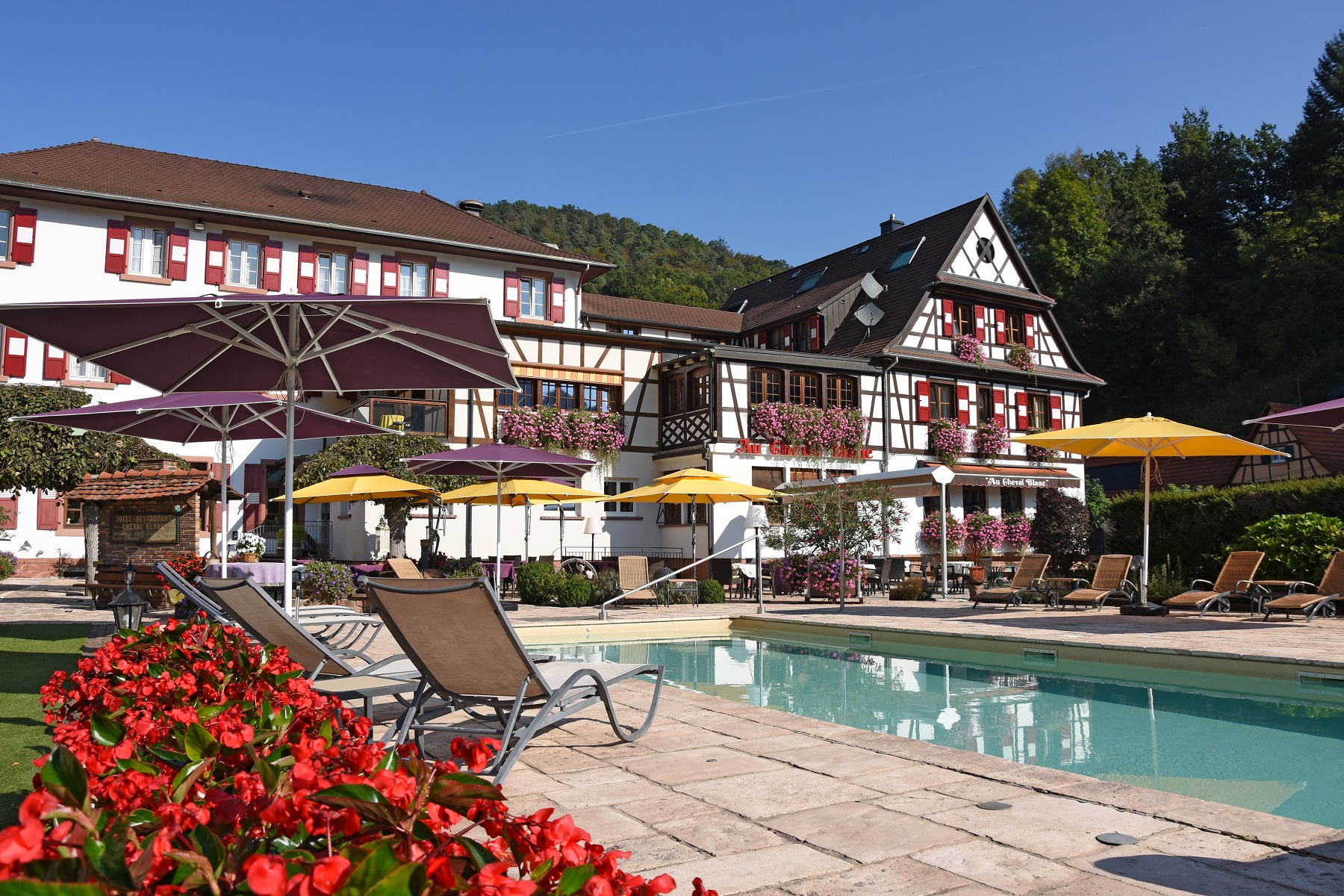 Contact
Le Cheval blanc - Hôtel***
11 rue principale 67510 Niedersteinbach
Tel : +33 (0)3 88 09 55 31
Fax : +33 (0)3 88 09 50 24
E-Mail : contact@hotel-cheval-blanc.fr
Situation
The Hotel-Restaurant Le Cheval Blanc stands proudly in the centre of the little village of Niedersteinbach, surrounded by a protected landscape of magnificent romantic valleys and fir tree forests. In respect of the House tradition, the Zinck family has been giving guests a warm and convivial welcome since 1924.
Soothed by the sounds of the nearby river, you'll sleep peacefully in this typically charming Alsatian Inn.
Our 30 cosy rooms, some romantic, some themed, have been renovated and all harmoniously combine classical furniture with contemporary comfort. Each room has its own personality to please a wide range of clients.
One room is equipped to receive reduced mobility clients.
For those who like something different, we also have a gypsy caravan, that can acocmodate two.

Warmth, simplicity, availability and respect for tradition are key words for the welcome that the Zinck family reserves for you at their Inn. There is a little bistro, Winstub, and four large, warm, elegant rooms available for private parties.
A SPA wellness area is at your disposal, composed of a sauna, Thermo-Spa, relaxation room, outdoor heated pool and a massage room with customised treatments.
The hotel has an air-conditioned seminar room with a balcony for meetings, training sessions and half or full-board seminars with a gastronomic package. It's fully equipped with a capacity of 17 people.
Environmental gestures
A member of Hôtels au Naturel since 1999
Awarded the European Ecolable in 2015 (which we won't be renewing due to the time consuming administration) however we continue to uphold the same objectives.

Installation of water saving devices in all rooms
Our bathrooms are equipped with shampoo/liquid soap dispensers in order to limit individual packaging and waste
We are replacing all light bulbs with low consumption versions.
Corridors have presence detectors for lighting
Cleaning products are ecological or Ecolable certified
We only change towels and sheets upon clients' request in order to economise on water and laundry detergent.
Our brochure is printed on recycled paper and we're progressively replacing all our flyer
We keep all printed sheets of paper to print or write on the back
We've put in place a selective system of sorting to recycle our waste
We collect the water from wine chiller buckets to water our flowers and compost our used ground coffeet
We have a cardboard compressor to reduce the volume of cardboard waste, which we then give to a cardboard recycling company
Our chickens and "Peanut" the pig, feast on our leftover vegetables, potatoes and fruit
Our pool's heating is operated by a heat pump
We offer regional produce
We have a servicing area for camping cars with connections for water, electricity and waste water
We've put in place charging stations for electric cars, including TESLA
We encourage you to participate in our approach using simple, non-binding gestures:
Turn off the heating or air-conditioning if you open a window
Turn off the lights and television when you leave the room
Use water in the bathroom rationally
Leave only the towels to be washed on the bathroom floor
Inform us of any eventual water leaks
Dispose of your used batteries at the reception in the box provided
Place all used cans, glass and plastic bottles on the desk
Do not throw anything in the toilet, use the bin
Thank you for helping us to protect the environment
Leisure activites at the hotel
Children's playground
18 hole mini golf, giant chess board and pétanque
Outdoor heated pool with terrace and relaxation areas
Wellness area with sauna and thermo SPA
Lounge with billard table, ping-pong and table-football. Electric bike rental on site
Library, boardgames
Activities in the surroundind area
Golf courses in Bitche and Souffleheim
Hiking directly from the hotel
Equestrian centre in Obersteinbach
Hot air ballooning
Tree top adventure park, "Didiland" theme park, animal park in Silz
Petit Fleck, Biosphere centre, bare foot walking path
Fleckenstein Castle, the Maginot line, pottery, crystal-glassware factory
Visit the Sturtzer cheese farm, the Cleebourg wine cellar, the Hoeffler artisanal distillery, the Uberach artisanal brewery, the Boehli bretzel factory
Regional Natural Park
The Northern Vosges Regional Natural Park was created in 1975.
The park is part of the trans-border biosphere reserve of the Northern Vosges-Pfalzerwald.

There are 2,600km of marked trails in the Park, 1,700 by the Vosgien Club, for hiking, horse riding, mountain biking or tourist cycling.
35 castles on sandstone outcrops and 2 Renaissance castles
26 museums and exhibitions linked to history, folklore or technical and artistic craftsmanship
113 classified or registered historical monuments and sites

5 Maginot line forts

The Northern Vosges has many types of forests, such as beech, oak, alder and even peat pine.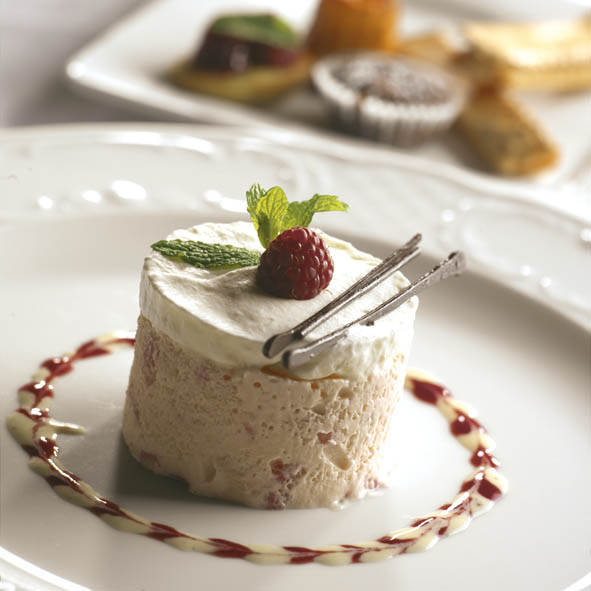 Restaurant
Key words for the welcome that the Zinck family reserve for you at their Inn are warmth, simplicity, availability and respect for tradition. There is a little bistro, Winstub, and four large, warm, elegant rooms available for private parties.
Elaborated from quality produce, carefully selected and awarded numerous titles and labels, the cuisine is refined, inventive, classical and regional.
A wide variety of set menus are available. Renowned since 1924 for it's fresh "caught to order" trout from the fish pond at the foot of the hotel, as well as for its game. In autumn the restaurant attracts enthusiasts for its excellent venison
Vegetarians are also catered to, and a range of dishes are specifically concocted for them.
To accompany these delicacies, our sommeliers Thomas Zinck and Thierry Leichtnam will advise you on the house's 300+ wine list.
Breakfast
Breakfast buffet €14
Children €8
In addition
A Bistro with daily lunch specials from noon, Monday to Friday
Afternoon tea/coffee and cake
In order for you to have the pleasure of savouring these delicious dishes in your own home, the chef offers to share his talent with take away meals, or by introducing you to his art by way of cooking classes.
Find here soon the partners of Le Cheval Blanc.