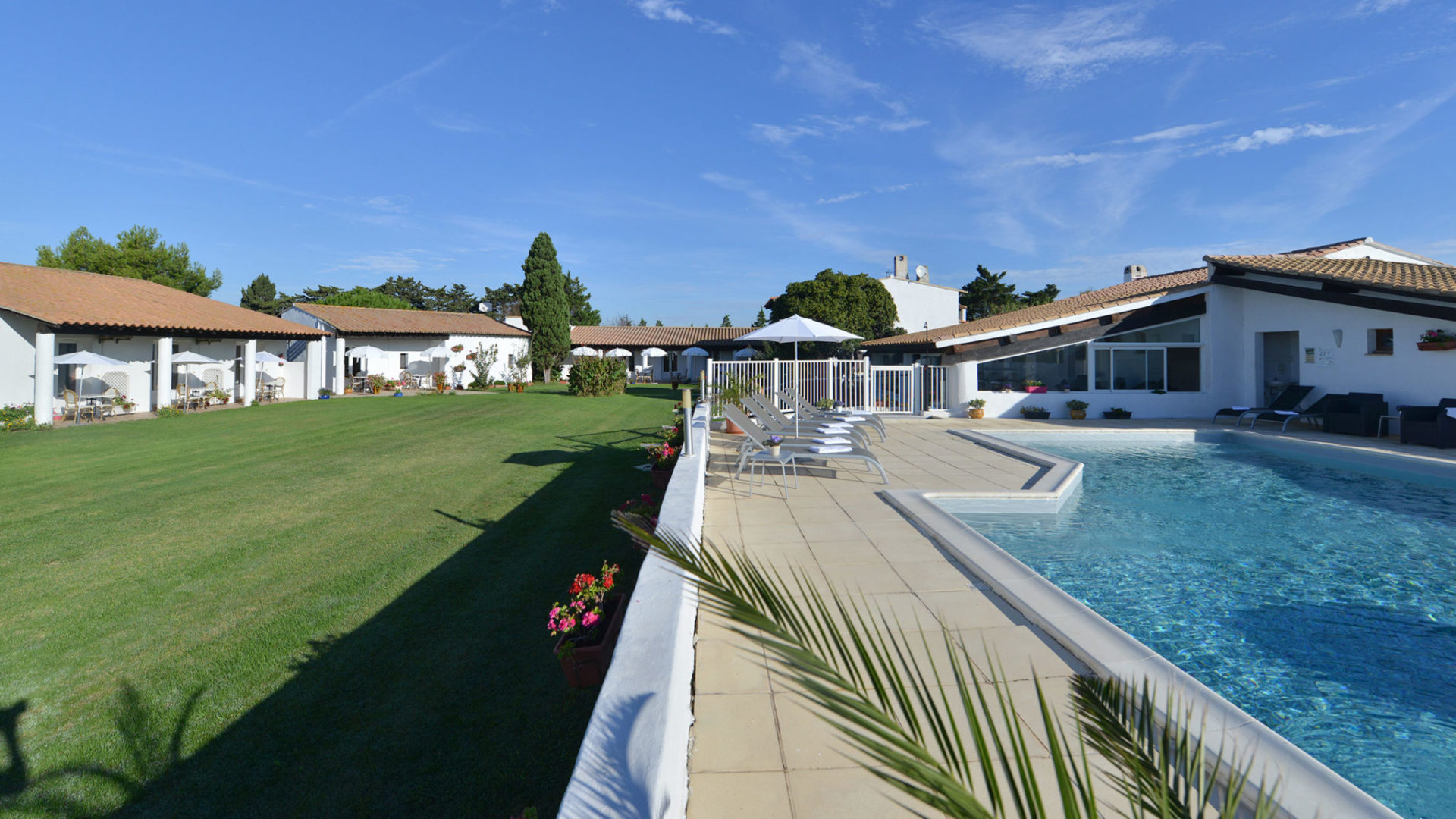 Contact
Le Mas de la grenouillère - Hôtel***
571 Chemin Haut des Launes 13460 Les Saintes Maries de la Mer
Tel : 04 90 97 90 22
Fax : 04 84 49 02 21
E-Mail : reception@hotel-la-grenouillere.com
Situation
Le Mas de la Grenouillère welcomes you to its exceptional setting in the Camargue for a stay that is close to nature and Provençal traditions.
The Camargue is a vast wetland in the Rhône delta. It is a showcase for Provençal culture in a remarkable yet fragile environment. In this preserved natural landscape, we do all that we can to welcome you in a pleasant and friendly atmosphere for a stay dedicated to relaxation and the art of living. Our establishment is committed to sustainable development and the protection of this exceptional environmental heritage, so that you can explore its hidden treasures.
Enjoy an intense experience while staying at le Mas de la Grenouillère. Enjoy our region's exceptional light and its delightful climate. From boat trips on the Rhône, to visits to the ornithological park, to walking or horseback riding between the sea and the saltwater lagoons, the Camargue will amaze you with the wealth and diversity of its flora and fauna, and also its landscapes.
Environmental gestures
Staff at le Mas de la Grenouillère are committed to welcoming you in a preserved natural environment, where they will entice you to explore its hidden treasures. The Mas de la Grenouillère will welcome you to unique surroundings in a friendly atmosphere. Our hotel is committed to the European Charter for Sustainable Development and to the preservation of the environment through 33 commitments. Located within the Camargue Regional Natural Park, bearing the Hôtel au Naturel and Refuge LPO labels, our establishment is committed to sustainable development and the protection of our remarkable environmental heritage.
You can also come here in your electric vehicle, and recharge it, at no extra cost.
We are only too happy to welcome you to our establishment. Since its creation, we have made respect for the environment a cornerstone of our operations. For the sake of ourselves, you, and future generations, we designed our hotel to minimise its environmental impact as much as possible. Natural health, carbon, innovation, local development, employment and dialogue: 32 commitments to keep our land alive.
Nature
Our showers and taps are equipped with flow regulators.
We have double flow toilets (6L/3L) which allows us to not exhaust our water resources
We recycle our waste with Elise Provence, which employs people with disabilities.
The hotel only uses eco-friendly and eco-labelled cleaning products, made in Europe

Flat screen LED televisions, Énergie Star certified. We also choose electric appliances with A+ classified power consumption

Our reception products bear the European ECOLABEL mark.
Our soap, shampoo, and conditioner are paraben-free.
We are committed to using products that are not derived from GMOs or tested on animals.
All our documents are used reasonably, we also use paper derived from forests that are sustainably managed.
We promote local products to our customers.
We use our own horse manure as a natural fertiliser for the lawn and flowers.
Our launderer only uses eco-labelled detergent so as to reduce carbon impact as much as possible, and to keep water and energy consumption to a minimum.
Carbon footprint
We use low energy lamps for 24-hour lighting.
We use solar energy.
We monitor and analyse our energy consumption on a monthly basis.
Our French windows are double-glazed, and made in France.
We require our suppliers to keep to a single delivery day in order to limit their carbon footprint.
Innovation
Our bedrooms feature eco-friendly bedding, bathroom linen and paper.
Bathroom furniture is made of bamboo, a plant with the fastest growth and regeneration rates.
Our furniture comes from thinned forests. Production waste is processed and recycled, as is wood waste. Our suppliers are committed to privileging the use of wood harvested near their production sites in order to limit transport distances.
Our suppliers have signed a code of conduct for sustainable forest management.
Signs in the bathrooms entice guests to keep laundry to a minimum, and explain the benefits of unbreakable and reusable polycarbonate toothbrush glasses.
Our toilet paper is made from 100% recycled food packaging.
We allow recharging of all electric vehicles at our establishment.
Local

We offer Fairtrade/Max Havelaar hot drinks (tea, coffee and hot chocolate).
We buy and promote local food produce.
We participate in the reforestation activities of the Camargue Regional Park.
Green activities are proposed to hotel guests. Horse-drawn carriage rides, horse-riding, trips to the Salins d'Aigues-Mortes (salt marshes), to the rice fields, to the Ornithological Park, mountain bike excursions, etc.
We offer nature tours to boost guests' environmental awareness.
For breakfast we work with Tropicana, a company committed to the provenance of oranges and the preservation of our planet. .
Materials
All of our paints are VOC compliant.
During room renovations, 80% of building waste was recycled (concrete, bricks, wood, steel)
Our construction companies are based in Saintes-Maries-de-la-Mer, and we chose building material produced as locally as possible to limit the carbon footprint.
Our ambitions
We want to extend our approach, for example by installing solar panels for water heating and by proposing electric bike rentals to our guests.
We want to continue to target and host guests with disabilities.
How can we involve our guests in this commitment?
To keep the 32 commitments made by our establishment, it is essential that we involve our guests, so we can improve our results even more. Even more so as our guests make sustainable development an increasingly important selection criterion.
Leisure activites at the hotel
SPA at the hotel
Gym
Swimming pool
Equestrian centre
Activities in the surroundind area
Rhône boat trips
Ornithological park
Horse drawn-carriage
Segway
Regional Natural Park
The Camargue is a vast wetland located in the Rhône delta, and a veritable showcase for Provençal culture. It is an original space featuring high class biological riches, diverse flora and fauna, a wonderful variety of landscapes, and very specific agricultural traditions.
Whether you are a nature lover or a lover of Camargue traditions, travelling on your own or with your family, here are some of the keys to exploring the Camargue Regional Natural Park and to respecting this remarkable but fragile area. Whether visiting a museum or exploring the natural surroundings, walking or horse riding between the sea and the saltwater lagoons, exploring tourist trails or lounging on the beach… it's up to you to plan your stay, all the while keeping in mind that you too bear responsibility for the preservation of the Camargue's natural beauty.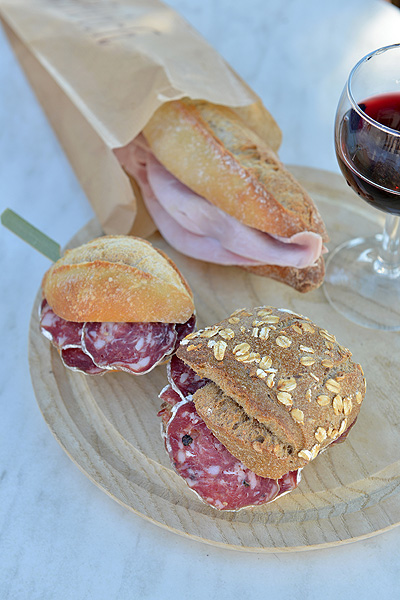 Restaurant
L'hôtel ne possède pas de restaurant.
https://www.camargue.fr/commerces-restaurants
Breakfast
Organic and Fairtrade breakfast, €15 per person, served between 8:30am and 10:30am either in our magnificent breakfast room or on your own terrace.
The carefully prepared buffet breakfast menu includes: a choice of teas and coffees, hot and cold milk, hot chocolate, fruit juices, cereal, jams and honey, Nutella, butter, croissant, brioche, fresh fruit, ham, hard-boiled eggs (from our own hens), yoghurt, cheese.
Express breakfast: €8 per person (hot drink + croissant + orange juice), served between 8:30am and 10:00am on your terrace.
Partners