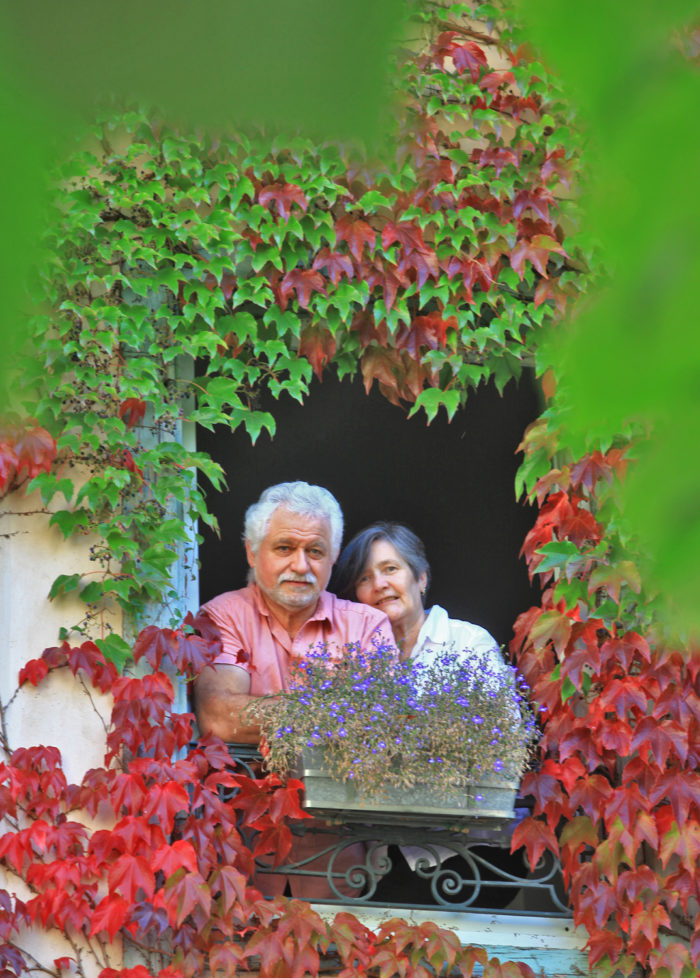 Contact
Le Quatorze - Hôtel***
14 Place de l'Estang 46100 Figeac
Tel : 05 65 14 08 92
E-Mail : infos@le-quatorze.fr
Situation
Le Quatorze is situated in Figeac, an appealing medieval town that also features cutting edge businesses. It has a youthful population and is culturally dynamic
Marie-Agnès and Michel welcome you with pleasure and take pains to ensure the quality of your stay. They're dedicated to sustainable development, so come and enjoy a natural and relaxed experience at Le Quatorze. Figeac will astound you with its history and cultural vitality which reinforce its image of a unique town, respectful of its past yet resolutely turned towards the future.
Figeac is also the gateway to the Causses de Quercy Regional Natural Park. The park encompasses a number of villages which perfectly illustrate the particularly identifiable Quercynoise architecture. But it's also an area of agriculture and gastronomy. A gastronomy that we honour in our breakfasts of carefully selected produce: local, artisanal, seasonal and often organic. Come and discover a fabulous variety of landscapes, from the historical town centre and its heritage to the Causses du Quercy Regional Natural Park with its hiking paths, caves and sinkholes.
Environmental gestures
Regarding energy management:
Centrally managed electric heating
A signed electricity supply contract with ENERCOOP (renewable and sustainable power supplier)
95% LED light bulbs
Presence detectors and timers for corridor and stairwell lighting
Wood burning stove for heating the breakfast dining room
Regarding waste management:
Systematic sorting
We no longer use single-portion products (eg. bathroom and breakfast packaging) in order to limit waste
Disposal of all sorted waste at the waste collection centre (glass, cardboard, ink cartridges, batteries, organic waste etc.)
Regarding water management:
Monthly checks on the water meter (sanitary cold and hot water) in order to detect any leaks
Recuperation of rainwater and the water used to rinse fruit and vegetables for watering the flowers
Regarding supplies:
Short supply chain purchasing using suppliers closest to the hotel in order to reduce the CO2 impact from transport.
Leisure activites at the hotel
Activities in the surroundind area
Figeac, a medieval town
Museum of Scripture (The Champollion Museum) in Figeac
Ratier Museum (aeronautical factory)
Museum of the Resistance
Hiking paths
Remarkable villages
Rocamadour, Saint Cirq Lapopie, Autoire…in the Lot region
Conques, Villefranche de Rouergue, Najac…in Aveyron
Collonges la Rouge, Turenne in Corrèze
Sarlat in Dordogne
The Lot valley, Dordogne valley on the Lot side, Célé valley
Caves and sinkholes
Golf 20mins away
Regional Natural Park
Figeac, birthplace of J.-F. Champollion, an historical town open to the modern world
Figeac is an appealing town anchored in a contemporary world. It features cutting edge businesses, has a youthful population and is culturally dynamic.
Since the first half of the 20th century, this little rural town has become an industrial centre thanks to the Ratier Aeronautical Company , along with the Figeac Aero Company since the beginning of 2000, both specialised in the conception and manufacture of aeroplane equipment. These companies, which count among the biggest in the Lot, are the primary drivers of the town's vitality.
The outlying areas of Figeac are also home to prestigious firms in other domains: the food industry, pharmaceuticals, machine tools, computers etc.
This industrial activity has made Figeac the smallest town in France to host a University Institute of Technology.
In parallel, the implementation of an ambitious cultural policy, of which the Champollion – Worldwide Scriptures Museum is the best example, reinforces the image of a unique town, respectful of its past yet resolutely turned towards the future.
Figeac is an important waypoint on the Via Podiensis (GR65 – Long distance walking route) on the pilgrimmage route from Puy-en-Velay to Saint Jacques de Compostelle.
Figeac, gateway town to Causses du Quercy Regional Natural Park
The Causses du Quercy Regional Natural Park
has 30 000 inhabitants, 97 communes, 185 500 hectares and a fabulous variety of landscapes to discover:
Water etches out fertile strips at the bottom of the valleys, while on the limestone plateaus it disappears leaving a ground covered with downy oak trees and dry fields.
"Les causses", dry, mineral plateaus, are the emblematic landscape of the Park.
The limestone base of the plateaus has been carved out by the green, majestic Lot and Dordogne valleys, by the wilder Célé and Vers valleys, and also by the impressive Ouysse and Alzou canyons, as well as numerous dry valleys.
This limestone subsurface evolves into clay and chalky marl in the East with the Massif Central mountain range, which creates green woodlands, characteristic of Limargue.
In the South-West, the more open and hilly Quercy Blanc terrain, alternates between fertile valleys with arid zones, called greenhouses, where limestone juts out.
The Regional Natural Park includes numerous villages which are perfect examples of the easily identifiable Quercynoise architecture. The most well known being Rocamadour et Saint Cirq Lapopie
The "Quercy black triangle", situated in the heart of the Regional Natural Park, represents one of the clearest night skies in France. In order to preserve this exceptional nocturnal heritage, a number of communes in the Park are committed to switching off their public lights at a set time in the evening and/or installing low energy street lights. Others have also signed a charter for the protection of the environment and the night sky.
The area is also known for its agriculture and gastronomy. Here are some examples of produce that represent local farmers' know-how:
The Quercy black truffle
Quercy safran
Quercy farm lamb
Duck or goose foie gras
Walnuts
Quercy Melon
Rocamadour goat's cheese
Pastis (delicious pastry tarts)
Croustilot (sourdough bread made from an ancestral recipe)
Strawberries
as well as cow's and sheep's cheeses, and charcuterie (cooked or cured meat products)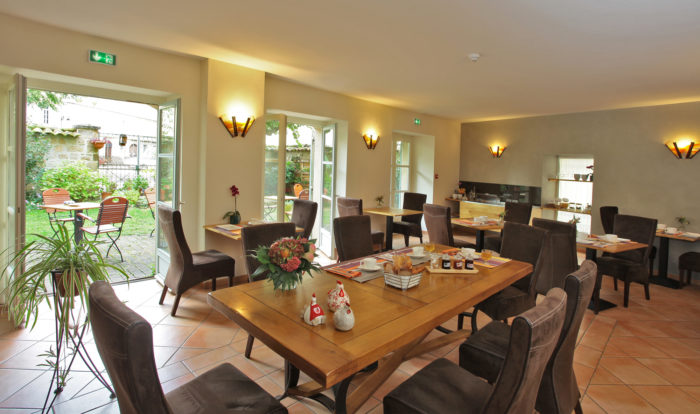 Restaurant
No restaurant on the premises.
Less than 10 minutes walk from the hotel, the town centre hosts a wide range of restaurants, from brasseries to semi-gourmet, crêperie, pizzeria, sushi, fish specialties or traditional cuisine. We'll be happy to advise you based on your personal preferences and budget.
Breakfast
There are two breakfast options:
Continental: bread (3 types), croissant, jams, butter, fruit juice
Buffet: various cheeses (cow's, sheep's, goat's), yoghurt, cereal, ham and cold meats, hard boiled eggs, fruit juice, fresh and dried fruit, homemade desserts, spreads (palm oil free), acacia flower honey
We offer local or regional produce, mostly purchased through a short supply chain, and certified Organic Agriculture whenever possible. We limit the use of environmentally, socially and economically high impact products (palm oil or citrus fruit for example) as much as possible. For more information, see our "Partners" page here.
All our suppliers are identified on a map at the entrance to the breakfast room .
In addition
The square in front of the hotel is a free municipal carpark. We also provide a locked carpark (€8 per night per car).
Picnic baskets are available on request.
Find here soon the partners of Le Quatorze.