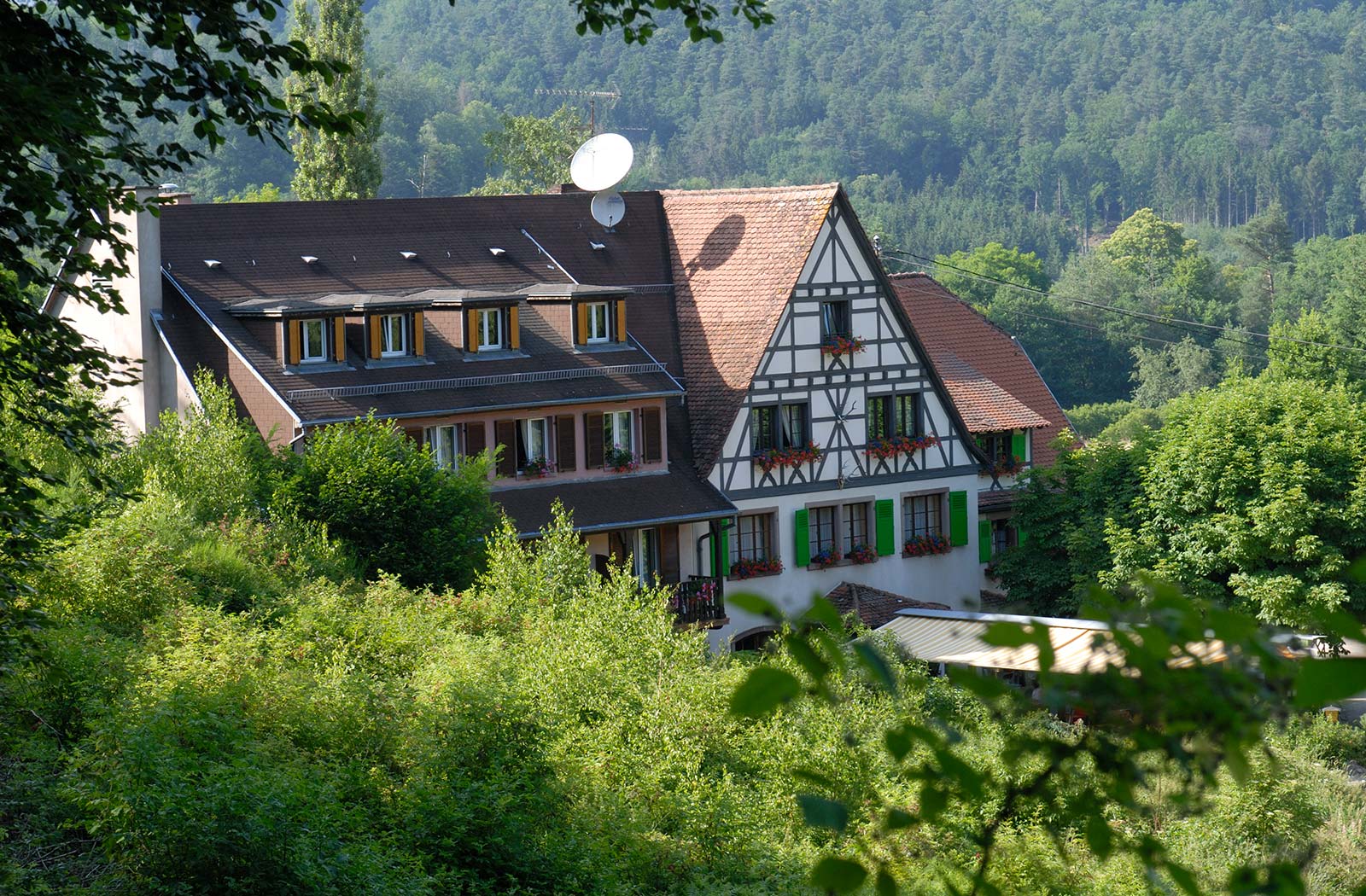 Contact
Auberge d'Imsthal - Hôtel ***
3 Lieu dit Imsthal 67290 La Petite Pierre
Tel : 03 88 01 49 00
Fax : 03 88 70 40 26
E-Mail : auberge.imsthal@wanadoo.fr
Situation
60km northeast of Strasbourg, the Auberge d'Imsthal welcomes you to the heart of the Northern Vosges Regional Natural Park.
The Auberge d'Imsthal encourages you to discover the treasures of this preserved natural site and its heritage, which in turn allows you to trace its history. During your stay make the most of the beautiful summer terrrace and the garden next to the pond. The Northern Vosges Regional Natural Park straddles the Bas-Rhin and Moselle departments. It's the ideal backdrop for all your outings. Enjoy a vast playground for hiking, mountain biking, horse riding as well as cultural sight-seeing.
The Auberge offers refined Alsatian cooking in all four rooms of its restaurant. Enjoy a wide choice from wild game, fish, meat, offal, foie gras, snails and vol-au-vents (savoury puff pastries) and discover traditional Alsatian cooking. With the dramatic change of scenery, unwind and discover the local traditions, typical villages and Alsatian gastronomy.
Environmental gestures
Selective waste sorting
Spring water
Ecolabel cleaning products
Activities in the surroundind area
Hiking
Mountain biking
Horse riding
Regional Natural Park
The Northern Vosges Regional Natural Park was established on the 30th of December 1975. It comprises 111 communes with a total population of 90,000 and straddles the Bas-Rhin and Moselle departments. Contrary to its name, this park is not at all situated in the Vosges department nor centred on the Vosges mountain range (whose peaks are a few dozen kilometres further south), but rather on its periphery. The Northern Vosges are referred to as the northern step to the Vosges mountain range as well as the southern part of the Vasgovie mountain range. The park is part of the cross-border biosphere reserve of the North-Pfalzerwald Vosges
127,600 hectares
111 communes
65% forest land ie. 83,000 hectares (45% hardwood, 30% softwood, 25% mixed)
2,200 hectares of orchards
600 hectares of officially protected natural sites
Highest peak: the Grand Wintersberg at 581 metres
2,600km of trails in the Park for hiking, horse riding, mountain biking or marked tourist cycling, 1,700km of which have been marked by the Vosgien Club
35 medieval castles on sandstone outcrops and 2 Renaissance castles
26 museums and exhibitions dedicated to history, folk traditions or technical and artistic craftsmanship.
113 classified or registered historical monuments and sites
5 Maginot Line forts
Restaurant
Our philosophy and service
In our restaurant, you'll discover the emblematic flavours of Alsace. On your return from a forest walk or after a day of seminars, you'll be delighted to taste our delicious and generous traditional regional cooking.
Whether sitting comfortably in the shade on our terrace on hot days, or at one of our indoor wooden tables by a crackling fire, you'll enjoy a convivial experience complete with our local specialties made from fresh, seasonal produce.
Our team will be happy to advise you throughout your meal.
The restaurant is open every day from 12pm to 2pm and 7pm to 9pm.
Local and seasonal produce
Vol-au-vents, Northern Vosges trout, garnished sauerkraut, wild game from our forests, veal cutlets etc. Our chef will help you discover regional specialties concocted with local, seasonal produce. Enjoy a total gastronomical immersion in Alsace.
Every lunchtime, from Monday to Friday, we offer a set menu for €11.50 which includes home made soup or entrée of the day plus the daily special.
For children under 12, there's a special set menu for €9.50 which includes a main course and a dessert
Finally, if you wish to discover seasonal dishes, we offer a €49 tasting menu (must be ordered by the whole table, served until 1.30pm for lunch and 8.30pm for dinner).
Find here soon the partners of Auberge d'Imsthal.